Michelin chef Enrico Bartolini at the Palazzo Venart
The GLAM Restaurant and Bar
Upon entering the Palazzo Venart, you will find a private and discreet courtyard with magnolia trees shielding you from the Venetian sun with their cool foliage and sweet fragrant blooms.. Set within this romantic enclave, you will find The GLAM restaurant. The latest creation of Michelin chef Enrico Bartolini, and his first in the Serenissima, GLAM can host up to 40 guests indoors or al fresco.
Serving classic Venetian fare using modern techniques with a contemporary twist, Enrico and his team have introduced this exciting new signature restaurant to the Venetian gastronomy scene.
Complemented by an extensive wine list and providing you with only the very best personally attentive service, GLAM, set within one of the most atmospheric properties in Venice, is even a destination in its own right.
Fine Dining at the Palazzo Venart Luxury Hotel in Venice
Twice-Michelin Starred Chef Enrico Bartolini at GLAM Restaurant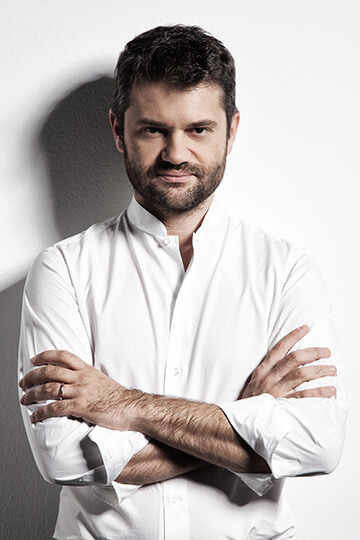 Born in 1979 in Pistoia, Enrico Bartolini was brought up to appreciate fine dining and developed a passion for cooking at a very young age. At just 29, the chef picked up his first Michelin star - and a second was achieved only four years later.
In 2017 Chef Bartolini is celebrating the award of an additional two Michelin stars: one for the Casual Ristorante and one for for La Trattoria Enrico Bartolini.
The chef's Contemporary Classic cuisine at the Palazzo Venart Luxury Hotel reflects his influences from across the world, using the fresh local ingredients Venice has to offer. From the sensation of taste to the incredible and memorable presentation, every meal at GLAM is a gratifying and engaging culinary experience.
Discover the flavours of Venice at the Palazzo Venart's exclusive GLAM restaurant.